Second Password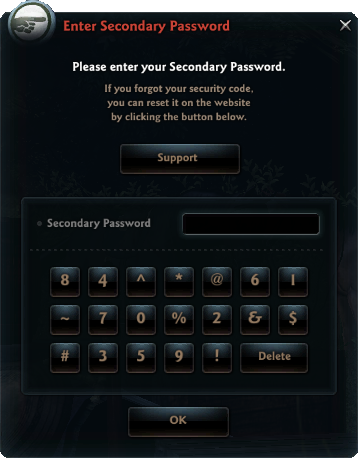 Entering the second password is required when you logged in. Using this password is your account protected against attacks.

The second password is required to set up first time to connect at the server. At another connect is only required fill right the password.

This password is named second, because is in fact a second. First password is required when you login in the Nexon Launcher.


At the left of this page you can see how second password window looks like.

At the top of the window, is placed button, which you redirect at [Nexon Support]. When you forgot the password, you can reset it here.
At the middle, you can see input where you enter the password. Password you can enter only using the buttons below.
At the bottom of the window is located buttons. After clicking at this buttons, you can fill the password. The buttons are random generated, so you must really mind which password you have.

After filling the password, you must click to the button "OK". If you fill the password correctly, you will continue to the Main Screen

Using button "delete" you can delete last letter in the password.


When you press cross at the top of the Second Password window, you will be redirect to the Start Page