Nexon Launcher
Nexon Launcher is a program through you can manage your Nexon's Games. In launcher you can see two different types of games. Nexon create computer and mobile games. Where Nexon have for computer 8 games and for mobile devices 12 games.
Vindictus is game for computers, as you can know. More games for desktop development by Nexon you can see below.

Games Development for Mobiles
[
edit
|
edit source
]
If you want to play any of the games, you must have installed Nexon Launcher too.
See also Nexon Nexon Launcher Settings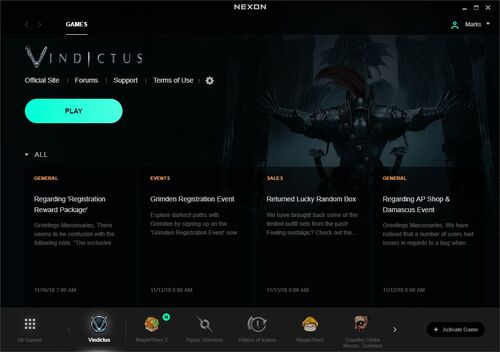 Before you start any game, you must login. For example i am logged in as Marks, you can see my account name at right top. From the launcher you have access to news on the server.
For start game you must click to play button. Then you have three options what can happen.
1) Launcher tell you, the server is under maintenance. Then you cannot to play. You must wait to end of the maintenance. Mostly is there write a time when the server will be again online.
2) It is happening after maintenances or if you don't play too long. You will start downloading updates of the game. By the size of the patch this take some time. Mostly is downloading quickly.
3) And the third option is the game normally started.
You can download Vindictus at official Nexon's Websites: [Vindictus Official Websites]
Or you can download it also across the steam: [Vindictus At Steam]

In the launcher you can switch between few news. For example update logs, sales at the server, general news and events.
Are here also community news where you have newest live streams created by community.