Evie/pl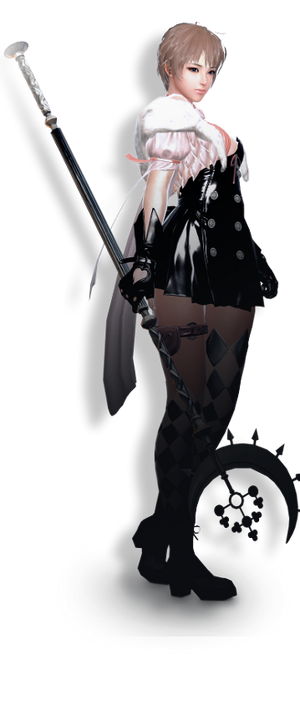 Evie jest czarodziejką władającą laskami lub bitewnymi kosami. Z laską, jest zdolna rzucać czary korzystając z obszernego wachlarzu umiejętności, począwszy od Lodowej Włóczni, która może zamrozić bossów po Koronę Uzdrowienia, która przywraca zdrowie jej sojusznikom. Kosa Evie jest zdolna zadać bezpośrednio znacznie większe obrażenia fizyczne, jednakże ustępuje możliwościom czarowania za pomocą laski.
Evie pochodzi ze wschodu. Jej postawa wskazuje na to, że dorastała w rodzinie szlacheckiej, ale nikt nie wie czy na pewno. Spytana tylko się uśmiecha i zmienia temat. Mimo jej młodego wieku, Evie pokazuje, że należy się z nią liczyć na polu bitwy.
Evie jest najbardziej uniwersalną postacią w grze. Jej umiejętność tworzenia Golemów, połączona z jej wysokim wskaźnikiem DPS czyni ją idealną klasą na misje w pojedynkę. Evie jest również wspaniałą postacią pomocniczą, potrafiącą uzdrowić członków drużyny zaklęciami Korona Uzdrowienia lub Regeneracja, czy wspomóc ich Szalonym Rozpruwaczem, tak dobrze jak spowalniać lub rozpraszać przeciwników za pomocą Ułamanych Skrzydeł równie dobrze co Pudło Alchemika-a dokładniej pochodzący z niego Pistolet Many. Wyposażona w laskę, jej Magiczna Strzała pozwala na nieustanne zadawanie obrażeń. Po chwili skupienia, Laska Evie umożliwia korzystanie z zaklęć dalekiego zasięgu takich jak Lodowa Włócznia czy Ślepa Strzała, co jest wspaniałym sposobem na utrzymywanie niebezpiecznych przeciwników na bezpieczny dystans, albo Podmuch Lodu czy Ognisty Piorun, które pozbędą się najbliższych wrogów. W czasie zagrożenia, potrafi pokonać krótki dystans, yet quick and no-stamina hop to avoid attacks. Latający Wróbel pozwala odskoczyć nawet dalej. Przeciwko atakom, które są wysoce trudne do ominięcia, może ukryć siebie wewnątrz Bursztynu Many na trzy sekundy lub dopóki nie rozpadnie się broniąc jej.
Wyposażona w Kosę Bojową, Evie can use entirely different melee-oriented abilities. Zamiast atakować na dystans, zbliża się, tańczy z ostrzem i sieka wrogów na strzępy, aby zakończyć ich żywot rozbijając ich pomiędzy wymiarami. Following such smashes, Scythe Evie can prime enemies with "drains", zdolnościami mogącymi wyssać małą ilość HP z przeciwnika, zawładnąć częścią jego duszy na własny użytek, as well as place Znak Śmierci or Krwawe Pasmo on enemies. Drains mogą być dalej wzmacniane przez podjęcie ryzyka: spending a vulnerable moment "pulling" after the smashes. Jednym pstryknięciem palcami, all drains placed on enemies simultaneously activate, causing enemies to burst into a bloody mess. Unlike with the staff, in the face of danger, Scythe Evie is able to utilize the Dark Dimension to teleport across a short distance with Blink, phasing through attacks or even through the enemy itself.
Despite her immense power, she has several weaknesses to balance her out. Evie has the lowest HP and defense out of all the classes, so she needs to rely on her Mana Shield, Mana Amber and Blink to stay alive; without these, she doesn't last long. Evie also has the smallest stamina pool compared to other characters. Because of this, a Staff Evie runs out of stamina frequently due to the high stamina cost of her spells. Staff Evies do not do well against faster enemies, as they will often attack her before she can finish casting her spells. However, a Scythe Evie is more versatile in combat, but she also has a vulnerability often after her combos, as she needs a moment to recalibrate for her next attack.
Despite all of this, Evie is still an excellent character to play, and brings a great deal of power and flexibility to the game.
Walka
Trening
Restoration
Battle Scythe Smash Combos

Common Skill

Laska

(Active: Raze)

Battle Scythe

(SP: Confusion Hole)

Miscellaneous

Equipment
Path
* XE Move is exclusive to XE/EU servers.
** Healing Corona is exclusive to Premiere/NA servers.
( ) Respective EU version name.