Butterfly Swing
Butterfly Swing
MAX RANK:
6
- Can only be used when equipped with a long hammer.
- Continuously performs long hammer attacks (as long as your Stamina allows).


<Controls>
Mouse: Attack[Left-click]x3 - Smash[Right-click] consecutively.
Keyboard: Attack[S]x3 - Smash[D] consecutively.
Fiona-only skill

The EU version's name of this skill is Long Hammer: Butterfly Swing.

Has a 360 degree area of effect.
The first hit is stronger than the consecutive hits.
Costs 9 stamina for the first hit, 26 stamina for consecutive hits.
Related titles: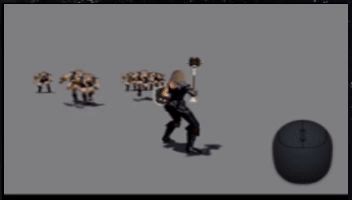 Reach level 24 and pay 12,000 gold.
Prerequisite: Long Hammer Mastery E Rank.
| Rank | F | E | D | C | B | A | 9 | 8 | 7 | 6 | 5 | 4 | 3 | 2 | 1 |
| --- | --- | --- | --- | --- | --- | --- | --- | --- | --- | --- | --- | --- | --- | --- | --- |
| Required Level | 24 | 24 | 24 | 24 | 24 | 24 | 30 | 36 | 42 | 48 | - | - | - | - | - |
| Damage Increase [%] | 2 | 2 | 2 | 2 | 2 | 2 | 3 | 2 | - | - | - | - | - | - | - |
| Damage Increase (Total) [%] | 2 | 4 | 6 | 8 | 10 | 12 | 15 | 17 | - | - | - | - | - | - | - |
| Knockdown Rate Increase [%] | 2 | 1 | 1 | 1 | 1 | 1 | 2 | 2 | - | - | - | - | - | - | - |
| Knockdown Rate Increase (Total) [%] | 2 | 3 | 4 | 5 | 6 | 7 | 9 | 11 | - | - | - | - | - | - | - |
| Required AP | 0 | 30 | 90 | 120 | 150 | 180 | 380 | 430 | 430 | 560 | - | - | - | - | - |
| Required AP (Total) | 0 | 30 | 120 | 240 | 390 | 570 | 950 | 1380 | 1810 | 2370 | - | - | - | - | - |
Rank
AP
Effect
Req. Level
F
0
Increases damage by 10%
Increases chance of knocking down enemies by 2%
24
E
30
Increases damage by 15%
Increases chance of knocking down enemies by 3%
24
D
90
Increases damage by 20%
Increases chance of knocking down enemies by 4%
24
C
120
Increases damage by 25%
Increases chance of knocking down enemies by 5%
24
B
150
Increases damage by 30%
Increases chance of knocking down enemies by 6%
24
A
180
Increases damage by 35%
Increases chance of knocking down enemies by 7%
24
9
380
Increases damage by 42%
Increases chance of knocking down enemies by 9%
30
8
430
Increases damage by 49%
Increases chance of knocking down enemies by 11%
36
7
430
Increases damage by 56%
Increases chance of knocking down enemies by 12%
42
6
560
Increases damage by 63%
Increases chance of knocking down enemies by 13%
48